Welcome to Blue Marmalade, the Watamu Supermarket. Your local convenience store.
Opening Hours:
Mon – Sat : 8 am to 6:30 pm
Sun: 8am to 6pm
Stocking top brand names from around the world and the best of what Kenya has to offer. Drop in to Blue Marmalade and find whatever you desire, whether it is a good bottle of wine, household goods or something for your pets.
The Watamu Supermarket Team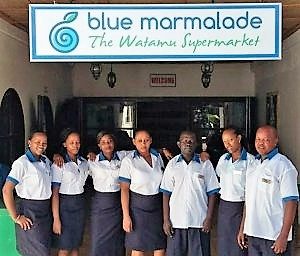 Blue Marmalade staff are waiting to welcome you with their friendly Kenyan smiles.  The team has been with us since opening in November 2015, so for our regular visitors their faces will be familiar. The staff work across the range of departments and are happy to offer assistance whenever required, as well as offering a helping hand with packing bags and taking your shopping to the car park.
What you can expect to find at Blue Marmalade :  
Please note perishable products come and go with seasons and all other products are entirely dependent upon supply from local manufacturers and importers.  Imported products tend to come and go and cannot be guaranteed to be available all the time.
Blue Marmalade Deliveries: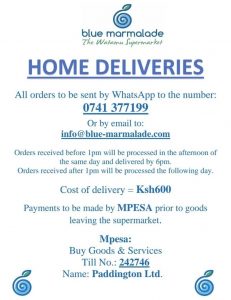 Corporate Social Responsibility :
For all reusable bags purchased at Blue Marmalade a donation is made to the Local Ocean Conservation, an Environmental Conservation Organisation in Watamu. www.watamuturtles.com 
Blue Marmalade Policies: